I cannot take credit for this adorable idea.  My daughter brought this sweet burlap reindeer wall hanging home right before her Christmas break last year when she was in kindergarten.  sniff. sniff.  Her teachers had each child make one and I loved this idea so much that I made one with my son this year.
Here is what my daughter's looks like
It's amazing to see how her writing has progressed too!
So here is what you will need to create this special keepsake with your own kids or grandkids
brown burlap
thick tree branch [or thin dowel]
ribbon of your choice
scissors
hot glue gun
Elmer's glue
brown [washable] paint
white+black felt
glitter [red, gold, or colors of your choice]
a kid
To start I cut a piece of burlap to 16″ x 20″.
This next part is so important if you do not want the edges to fray.  Remove one strand of burlap along 3 sides of your piece.  Once you do that, pull out the strands of burlap just below that one you removed.
You should now be left with something that looks like this
I grabbed a stick [my son is a "stick magnet" so it's easy to find one] and simply wrapped the remaining edge over the stick and hot glued it.
I added some of my favorite red+white ribbon as the hanger and tied it onto the stick
Our stick was a bit too large so I simply sawed it down a bit.  Looks pretty already huh?
Now for the fun [and messy part].  I did this next step outside [sorry to anyone reading this while buried up to your eyeballs in snow].
The only brown washable paint I had on hand was this copper colored glaze by Martha Stewart.  [I have NO idea what project I originally bought this for].  I poured about 1 cup of this into a plastic container, grabbed my boy and had him do a practice run…
We dipped his right foot into the paint, wiped off the excess and pressed his tootsie onto the center of the burlap
Next was to make our reindeer's antlers so we repeated this step with both of his hands
Tell me this isn't a project right up his alley
So after hosing him off [not joking] I started adding the glittery details
I found this glitter pack at Target for $3.99 [in the kids' craft section].  It comes with green, red, gold, silver, white, pink, purple and even black!
I added the red first and made Rudolph's nose and added my boy's name
Then the year in gold glitter
I wanted to use the white glitter for his eyes, but poor Rudolph looked possessed so I grabbed my box-o-felt and made his eyes from that instead.
To add some more detail, I put a glob of Elmer's glue onto each antler tip and sprinkled black+gold glitter on top.  I wanted to add more glitter, but at this point I thought it was pretty and had to force myself to stop.  Now just let all the glue dry [I let my dry overnight before hanging it up] and enjoy your sweet keepsake for years to come.
Here are both kids' keepsakes.  This is such a fun [and a little messy, but who cares] project to do with your kids.  And if you're in need of a last minute gift idea for the Grandparents this is a good one!
linking this crazy project up to: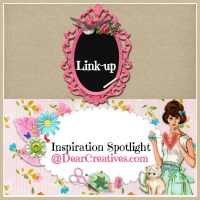 <<you might also like>>