This latest DIY was born after I read a recent post from The Little Green Notebook.  I was so inspired by Jenny's vase makeover that I just had to try it myself.  Not to mention, it's so fast and fool-proof.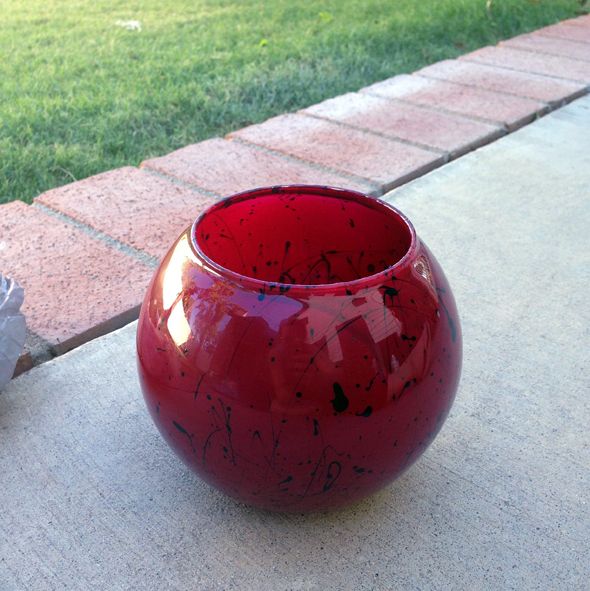 I love the look of this vase, but was even more in awe after reading that this was a cheap-y vase she simply splattered black nail polish into and spray painted deep red!
I rummaged through my stash (aka collection-o-crap) and found a perfect vase for this makeover.  Instead of red, I knew I wanted to make mine gold.
I also used my black nail polish.
Instead of the splatter-technique Jenny used, I poured huge globs of nail polish into the vase and started swirling it around.  I did this about 5 times and I was left with this abstract, funky look.
I flipped the vase over and decided to let gravity do its thing.  I knew some of the nail polish would drip down the sides and I was excited to see what the final outcome would be.  So after apx 30 minutes I came back to check on the vase and this is what I found…
The nail polish dripped down on just one side and at first I was scratching my head wondering if I liked it or not.  But I decided to keep going and wait to judge after it was completely finished.
 I wrapped up the vase with a trash bag, secured it with 2 rubber bands and sprayed the inside with gold spray paint.
I was so excited to see the final vase, so I didn't waste any time and ripped the bag off immediately to find this…
 I LOOOOVE it!!  It's abstract, modern, funky…all of my favorite adjectives.
This could not be easier and you're only limited by your imagination.
 I put the vase in our first floor bathroom and placed a battery-operated* candle in it.  The glow from the candle against the gold paint is just gorgeous! [*I DO NOT recommend using a real candle in this vase, as the spray paint is very flammable.]
I don't know about you, but I have a small collection of clear, floral vases under my kitchen sink that I am now going to hold onto!  I'm thinking of making one in turquoise, plum and maybe use white nail polish and black spray paint!  Like I said, the possibilities are endless!
<<you might also like>>