I'm baaaaaaack!!  Like most bloggers out there, I took an extended vaca from blogging and had the best two weeks!  I say that with a little tongue-in-cheek.  See, we made the incredibly loooong trek from [sunny] San Diego to [frigid] Ogden, Utah to spend some quality time with our dear friends.
Even though I paid the Emergency Quick-Care two visits during that week and was sidelined during some amazing skiing trips, not to mention braving the massive inversion it was still worth seeing our friends.  Plus, how could you not be in awe of this everyday…
So you know you're a DIY/design junkie when your brain still races with ideas while on vacation!  This DIY popped into my head during our 13 hour drive up north!
Like most of my DIY projects, I try to use items I already have on hand.
green floral styrofoam / lollipop sticks [yes, I actually had these on hand!] / fabric / 3M styrofoam spray adhesive
The only thing I purchased was the 3M styrofoam spray adhesive [Michaels's $10.99].
To start, I sprayed a light coat of adhesive on the front and sides and let it dry for 2 minutes.
I then wrapped the styrofoam in one of my favorite fabrics and folded the corners.
I poked a few holes through the fabric and styrofoam then stuffed it with half of one lollipop stick.  If you're scratching your head wondering, "Why the hell use a lollipop stick?"  Well, I had these on hand to make a starburst mirror, but that never happened.  They're already white [no need to spray paint them] and very sturdy.
The only thing to remember is stagger each row of pegs so your jewelry isn't crowding over each other.
To add some pizazz I wrapped the edges in gold duck tape.  I know it looks yellowish in this picture, but trust me it's glittery!  To attach it to the wall I simply hung it on a nail!  Voila!
For a total of $10.99 I made a custom, funky jewelry organizer and I just love it!  Be sure to check back as I made a 3 page list of easy, affordable DIY projects during that long road trip up north!!
linking this crazy project up to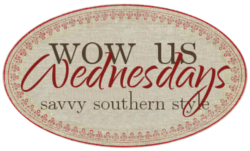 <<you might also like>>